Establish oyster farming models using the hanging culture method and guide sustainable clams farming techniques
MONday - 28/07/2014 00:12
Deploying the "Establish oyster farming models using the hanging culture method and guide sustainable clams farming techniques" project under "Mangroves for the Future - MFF" in Kim Son District, Ninh Binh Province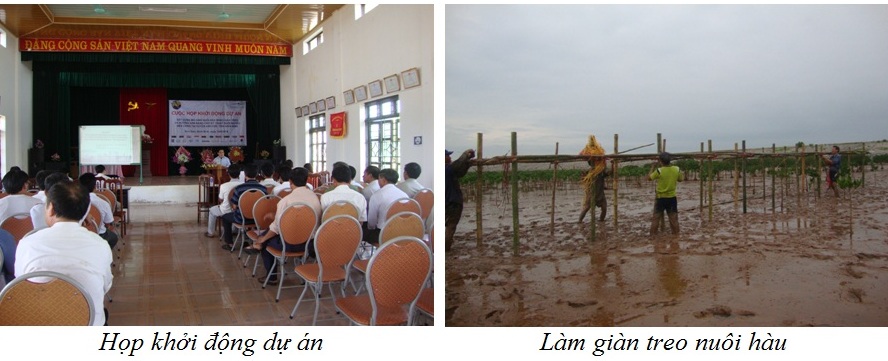 Establish oyster farming models using the hanging culture method and guide sustainable clams farming techniques
On May 2, 2014, International Union for Conservation of Nature and Natural Resources (IUCN) and Vietnam Fisheries Society (VINAFIS) signed a contract to implement the project "Establish oyster farming models using the hanging culture method and guide sustainable clams farming techniques" in Kim Son District, Ninh Binh Province, in order to transfer new farming techniques, and guide to perform sustainable aquaculture, improve the livelihoods and living standards of inhabitants, contribute to the protection of coastal mangroves forest system, natural eco-system of UNESCO protected area buffer zone.

Right after the Project had been approved, the Department of Sustainable Aquaculture Development – Vietnam Fisheries Society held a project inception meeting and implemented constructing six hangings for clams farming.
In July 2014, Vietnam Fisheries Society will offer training courses in technical guidance regarding to oyster farming using the hanging culture method, and in guidance regarding to improving sustainable clams farming technique for farms in three coastal communes of Kim Son District, Ninh Binh Province.
The results of this model will be summarized and evaluated economic efficiency and the success oyster rearing with rig crashes model will be duplicated throughout the region.